CEISMIC QuakeCoRE
CEISMIC is a a collaborative, open-access archive which provides federated access to a broad range of material gathered by leading New Zealand cultural and educational institutions, preserving the knowledge, memories and experiences surrounding the 2010 and 2011 Canterbury earthquakes.
Partnering with QuakeCoRE, we are currently further developing CEISMIC to facilitate research access to the archive's data.
UC QuakeStudies
UC QuakeStudies is a digital archive built to store content related to the Canterbury earthquakes. We aim to document the impacts of the Canterbury earthquakes, record our community's recovery, and facilitate research on earthquakes and post-disaster response and recovery in New Zealand and around the world.
UC QuakeBox: Take 2
In 2012 UC researchers invited members of the public to share their stories of the Canterbury earthquakes. These stories were recorded in the UC QuakeBox, a mobile recording studio which was stationed at various locations throughout Ōtautahi Christchurch. UC QuakeBox: Take 2 seeks to revisit these stories and the people who shared them, to develop a significant longitudinal dataset of post-disaster stories.
Mapping Public Lectures and Debates in 19th Century Christchurch Through Digitised Historical Newspapers
Faculty of Arts Digital Research Seed Fund Project 2023
This project maps public lectures and debates in 19th century Christchurch, by applying a variety of text analytic methods to historical newspaper advertisements to extract the 'who', 'when', 'where', and 'what' of these events and produce a public facing interactive visualisation. Unlocking this information from historical newspapers will be a significant contribution to both New Zealand history and to the emerging field of experimental history of philosophy.
This project contributes to the ADL's ongoing work on Papers Past newspaper content. The investigation of workflows for OCR improvement is particularly important for future work as OCR errors are a significant limit on the success of text analytic methods.  
2013-2023 Electoral Immigration Detention Discourse in Aotearoa, Australia, and the UK
Faculty of Arts Digital Research Seed Fund Project 2023
Immigration detention is a contested topic mobilized during elections to shore up political support and votes. These discourses reveal assumptions, values, and norms on the part of politicians, bureaucrats, pundits, and community stakeholders about social risk and deservingness. These discourses have real world impacts through policy decisions and on the lived reality of migrants.
This research project is creating a corpus of immigration detention discourse, drawing on corpus-assisted discourse analysis techniques to comparatively analyse narratives about immigration detention, specifically risk and deservingness; track how such narratives are transferred across borders (policy learning); and pin-point how narratives are reflected in subsequent policy.
Image: Takver, CC BY-SA 2.0, via Wikimedia Commons
Taniwha: A Cultural History – Digital Corpus Analysis
Faculty of Arts Digital Research Seed Fund Project 2023
This project asks "who" rather than "what" are taniwha?  To whom are they related and how? Are there connections between taniwha narratives? What kinds of knowledge are embedded in these narratives? And how might taniwha narratives help us to understand and navigate current conflicts and challenges that are present both here in Aotearoa and beyond? 
We are building and analysing a digital corpus to assess and address ways in which taniwha have been represented in pūrākau, literature, visual art, news media, and a range of digital and web-based source material.
Exploring digital approaches to film studies at UC
Faculty of Arts Digital Research Seed Fund Project 2023
Over the last fifteen years, researchers in film studies and associated visual analysis fields have been exploring the use of digital and computational tools in novel ways. One strand of inquiry, based more in film and arts practice, is how the creation of videographic essays might be a form of research and meaning-making itself, as well as a mode of dissemination and a pedagogical approach. Another is how digital tools might open up new ways of thinking about film as object and artefact. Approaches are almost staggering in their diversity.
This scoping project thus aims to understand what digital approaches to film studies might look like at UC – practically, ethically, creatively. The aims of this research project are broad, and are intended as first steps towards a better understanding of this field in our context.
Image: Archives New Zealand, CC BY 2.0, via Wikimedia Commons
Imperial reinforcements: MI7b propaganda in New Zealand and the Dominions during the First World War
Faculty of Arts Digital Research Seed Fund Project 2023
During 1917 and 1918, a newly established branch of British military intelligence, MI7b, recruited a collection of more than 20 talented writers from the ranks of the army to write propaganda for circulation to newspapers in Britain and its imperial Dominions (Australia, Canada, Aotearoa New Zealand and South Africa). Among the recruits were such prominent authors as the fantasy writers Lord Dunsany and H.R. Wakefield, the humourist J.B. Morton, the Irish author Patrick MacGill and the journalist and author A.J. Dawson, as well as the internationally-renowned post-war children's author, A.A. Milne.
This project aims to expand the exploration of digital newspaper repositories, by seeking further pieces by Milne and other MI7b propagandists. The research will shine new light on Britain's self-promotion to itself and its Dominions during the war, and increase knowledge of British propaganda activities in Aotearoa.
Earthquake Stories Walk
The Earthquake Stories Walk, developed by Our Stories Project Trust with the support of the Arts Digital Lab, maps memories of the February 22, 2011 earthquake throughout the central city. The 30-minute walk starts at Quake City museum on Durham Street and finishes at the Canterbury Earthquake Memorial. The project was developed using content from the CEISMIC Canterbury Earthquakes Digital Archive, and includes first-person stories from more than 30 people. Visitors are able to listen to the audio through a smartphone web app.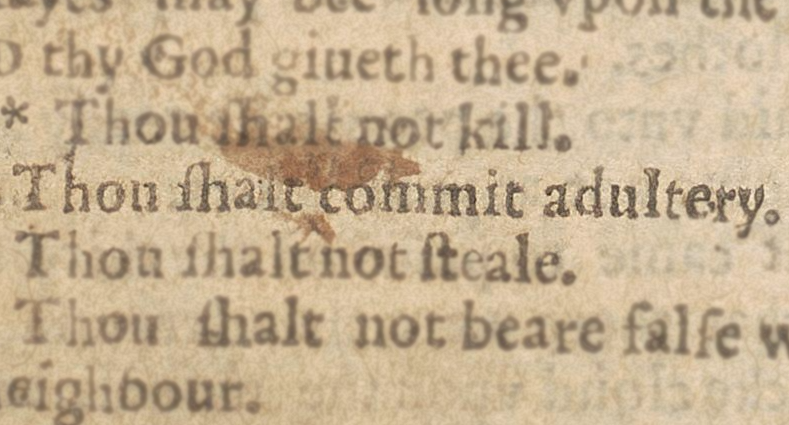 King James "Wicked" Bible
Recently, a 1631 edition of the King James Bible with a rather scandalous misprint was discovered to be privately held in Christchurch. Known as the Wicked Bible, this particular edition has a number of errors, including a typo in the Ten Commandments which infamously reads: "Thou shalt commit adultery". Thanks to the generosity of the Donnithorne family, work is being done over the summer to build a website to present high quality images of the Bible in a freely accessible format, and to conduct research on the construction and historical context of the Bible itself. Once published, this new digital edition will allow scholars and laypeople alike to study the Wicked Bible, and to access ongoing, up-to-date information.
Mapping LAWS
Controversy around the development, regulation and use of Lethal Autonomous Weapons Systems (LAWS), or 'killer robots', has rapidly developed over the past decade. The 'Mapping LAWS' project uses methods and tools associated with 'issue mapping' to gather large digital datasets of published writing on LAWS, present the results in accessible visual formats inspired by the principles of 'data humanism', and analyse key international relations and policy-related issues that arise from that process.
Canterbury Roll
The Canterbury Roll is a 15th-century, hand-written genealogy that begins with Noah and traces the rulers of England from the mythical Brutus to King Edward IV. This project presents a new digital transcription and translation, mapped to a high quality digital facsimile of the Roll. The ongoing project is a partnership between UC History, the UC Arts Digital Lab, the UC internship programme, the Collaborative Research Centre 933 of Heidelberg University, and Nottingham Trent University (UK).
Macdonald Dictionary
A crowdsourcing project in collaboration with Canterbury Museum, to index the G. R. Macdonald Dictionary of Canterbury Biographies held by the museum. These biographical cards were traditionally organised by the male heads of the households. The project uses Zooniverse to enrich the data and properly index the women's names featured in the Dictionary.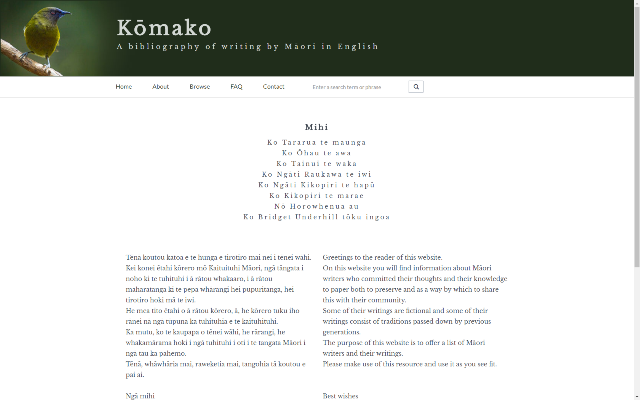 Kōmako
Kōmako is a bibliography of writing by Māori in English. The website presents a database of information about Māori writers who committed their thoughts and their knowledge to paper both to preserve and as a way by which to share this with their community. Some of their writings are fictional and some of their writings consist of traditions passed down by previous generations.
Roy Bruce Letters
The Roy Bruce Letters are a collection of correspondence sent back to New Zealand during World War 1 by Major Roy Bruce of 8th Squadron, Canterbury Mounted Rifles. Major Bruce fought in Gallipoli and was promoted to Second in Command of his regiment. He was twice wounded while serving in the Middle East. The scanning, transcription and TEI markup of letters in the Roy Bruce collection was undertaken by students of ENGL317/419 in 2010 and 2011.
Understanding Place
Understanding Place: Computational Tools for Harnessing the Meanings of Nature in the Urban Landscape gathered and shared resident and manawhenua stories about the residential red zone in Christchurch, Aotearoa New Zealand via a mobile app, Red Zone Stories, and a mapping platform with analytical tools to help people explore each other's material.
The Record
The Record is the online publication of Journalism students at the University of Canterbury. The website aims to provide an online sandpit for students to learn the ins and outs of multimedia journalism. All work is produced by students, who are responsible for producing and editing news stories, photos, videos and audio — and having fun along the way.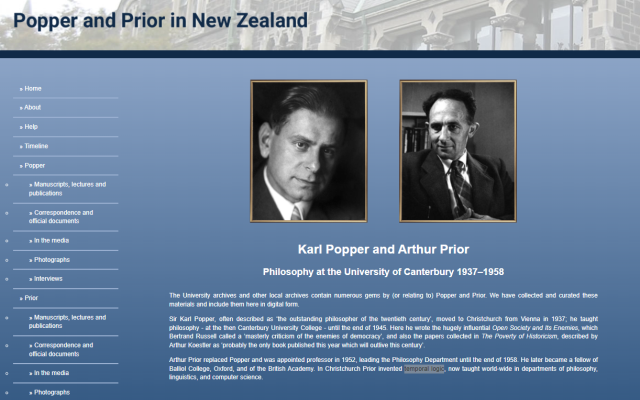 Popper and Prior in New Zealand
A digital exhibition of documents illustrating the history of Philosophy at the University of Canterbury in the 1930s to 1950s. The exhibition, developed in collaboration with the Philosophy department, focuses particularly on the visits to UC of Sir Karl Popper, often described as 'the outstanding philosopher of the twentieth century', and Arthur Prior, the inventor of temporal logic.
Pacific Dynamics
Pacific Dynamics Journal of Interdisciplinary Research is an online open access journal published by the Macmillan Brown Centre for Pacific Studies, in collaboration with the University's Library and the Arts Digital Lab. The journal attempts to respond to the need for critical, open and interdisciplinary approaches to research by promoting rigorous debates on theoretical discourses, applied knowledge and policy issues regarding the Pacific Islands, including New Zealand, Australia and the Pacific Rim.
Illumination & Commemoration
Illumination & Commemoration is an open-access repository for the digitised lantern slides of New Zealand's First World War battlefield memorials designed by architect Samuel Hurst Seager. The Omeka-based website contains a slide database and online exhibitions where the lantern slides can be examined closely with information about the original context surrounding the creation of the memorials and the lantern slides.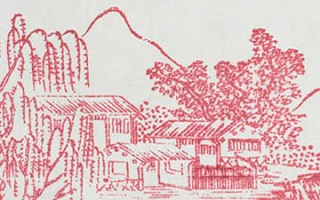 China, Art and Cultural Diplomacy
A collaboration with UC's Art History and Theory department and Canterbury Museum, China, Art and Cultural Diplomacy is an Omeka-based repository of high-quality digital images of items in the Rewi Alley collection of Chinese art The site is a curation tool enabling researchers to investigate the scope of the collection, why and how it developed and the extent to which the artefacts encouraged favourable perceptions of a 'New China' in New Zealand.
Voices Against War
Voices Against War is a collaboration between the Disarmament and Security Centre, UC's History department and the Arts Digital Lab. The website uses a digitised historic images and documents to tell the stories of women, men and their families throughout Canterbury who opposed conscription and militarism, supported the conscientious objectors (COs), and campaigned for a new world order before during and after World War I.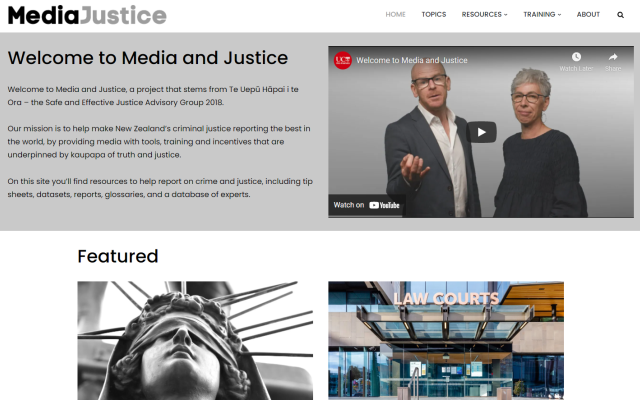 Media and Justice
The Media and Justice project arose from the Media Working Group (MWG) facilitated by Te Uepū Hāpai i te Ora – the Safe and Effective Justice Advisory Group 2018. The Media and Justice site, a collaboration between UC's Criminal Justice programme, Journalism department and the ADL, will be a one-stop-shop for journalists and journalism trainees to find factsheets, datasets, an expert database, best practice examples, 'how to' guides, training events, scholarships, and awards.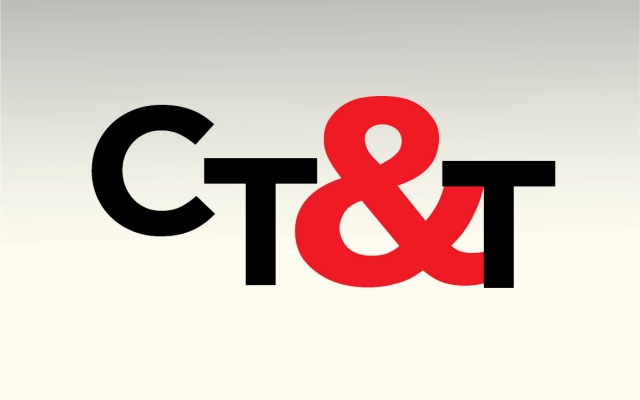 Continental Thought and Theory
Continental Thought and Theory: A Journal of Intellectual Freedom is an online open access journal developed by the Canterbury School of Continental Philosophy in collaboration with the ADL. The journal responds to the need for international critical engagement in social and ontological problems and issues—including increasingly, the function of the academy—which strongly suggest that new kinds of questions, critiques, debates and responses are crucial to the relevance and interrogation of Continental theory in the 21st century.
Te Kaupeka Toi Tangata Arts Update
Te Kaupeka Toi Tangata Arts Update and its accompanying weekly newsletter share news, views and events from the University of Canterbury Faculty of Arts. The ADL created a custom WordPress plugin to gather together news items, opinion pieces and event notices from across the Faculty.
Teece Museum website
The ADL assisted the Teece Museum of Classical Antiquities in a major update of their website. A significant additon was the ability to directly browse and search the museum's Logie Collection via the eHive collection database.
Philosophical Discourse in Early New Zealand Newspapers
Philosophical Discourse in Early New Zealand Newspapers was created by Joshua Wilson Black, building on his Masters in Applied Data Science summer project. The project used "iterative bootstrapping" to train classifiers to identify philosophical content in the Papers Past digital newspaper archive.
Canterbury Earthquake Narratives: The Experience of Re-Telling
During 2019/2020 the Quakebox: Take 2 project re-interviewed 120 participants who first gave us their earthquake stories in 2012. Statistical evidence and anecdotal reports strongly suggested that the re-telling had varied impacts on research participants. This project is an attempt to obtain more systematic information about the impacts of re-telling narratives about disaster experiences.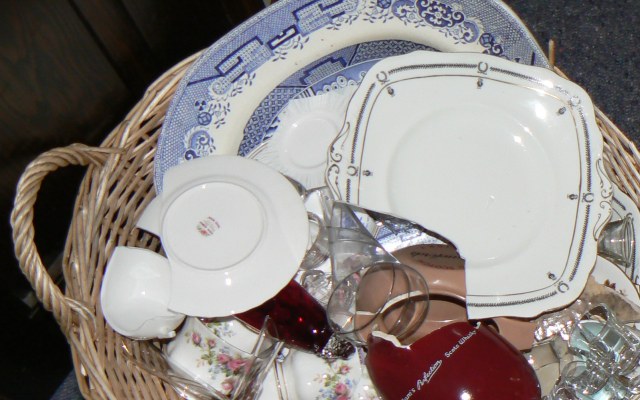 Christchurch Diaspora
Despite a wealth of research into the Canterbury earthquakes, little is known about the experience of "quake refugees", those who relocated from Christchurch following the earthquakes, whether for safety reasons, to escape aftershocks, or a need to 'move on'. This project seeks to learn more about experiences of relocation at the micro level: what people do, what people think, and what people say about moving out of the city, looking for a new residence, and adapting to a new environment.
CTV Memorial Archive
The CTV building catastrophically collapsed in the 22 February 2011 Christchurch earthquake, resulting in 115 deaths. The CTV Memorial Archive is a collaboration between the ADL and victims' families, to tell the stories of those who were lost, and to ensure that the lessons learnt from the building's failure are never forgotten.
#EQNZ Twitter Research Group
The Canterbury Earthquake Twitter Data Research Group is a group of communication and digital humanities researchers working on a database of tweets related to the Canterbury earthquakes of 2010 and 2011, using qualitative and quantitative approaches.
Past projects
DHA2021
The fifth biennial DHA conference of the Australasian Association for Digital Humanities (aaDH) was hosted by the ADL as a virtual conference in November 2021. DHA2021 'Creating Communities Ka Renarena Te Taukaea' was the first aaDH conference hosted in Aotearoa New Zealand, organised by a consortium of three NZ Universities. The conference focussed on how digital technologies can not only create connections but support diversity, creativity, community building, wellbeing and resilience in a world of rapidly evolving challenges.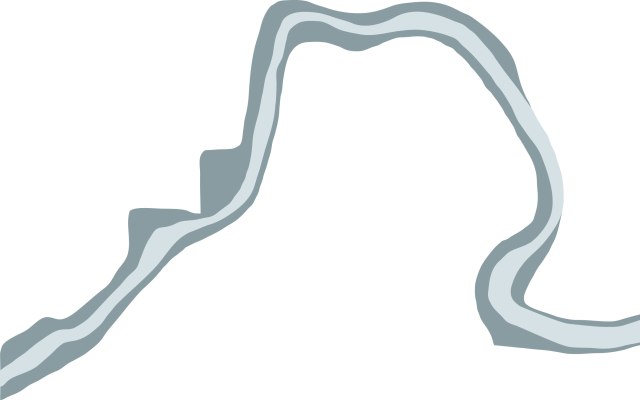 We Lived Here
We Lived Here was a collaborative project between photographer Juliet Nicholas and writer Fiona Farrell. The project aimed to record the experiences of residents from the Avon Loop whose land was zoned Red after the 22 February 2011 earthquakes and houses were demolished. Interviews were conducted with the residents and their homes were documented through photography. The ADL published We Lived Here as an e-book, which is now available in QuakeStudies.
EQ Recovery Learning
When the EQ Recovery Learning website created by the Department of the Prime Minister and Cabinet came to the end of its life in 2020, the ADL worked with the DPMC to harvest content from the site and transfer it to QuakeStudies to ensure its ongoing availability. The collection brings together the collective learning from the Canterbury earthquakes to help equip leaders and communities involved in disaster recovery and complex challenges.
Grey Material in NZ Research Repositories
This project was a collaboration with UC Library to examine how grey material and electronic theses and dissertations are being cited in the SCOPUS online database. The research showed theses and other materials deposited in research repositories are being cited in peer-reviewed research at an increasing rate.
DIVE Platform
The ADL worked with the Resilient Organisations Research Group to develop a prototype for the Digital Integration and Visualisation (DIVE) Platform for disaster and resilience researchers across New Zealand. The prototype was developed using the open-source data portal platform CKan, and aimed to enable teams of researchers to address complex social and technical problems through data sharing; facilitated access to public, restricted, and
private data sources; and the ability to integrate and visualize data.
SCIRT Learning Legacy
A collaboration between the Stronger Christchurch Infrastructure Rebuild Team (SCIRT), UC's Quake Centre and the ADL to document the lessons learnt by the team after the 2010-2011 Canterbury Earthquakes. The SCIRT Learning Legacy is archived in a QuakeStudies collection.
Kia Tōpū
The ADL contributed to the proposal for a university-wide research initiative Kia Tōpū, which would respond to the urgent need to address the looming global food crisis and trends that will impact New Zealand's way of life. The ADL created a prototype for a multi-disciplinary open-access online journal, as well as developing tools using digital humanities methods such as social network analysis and text classification tools to identify emerging and key research themes and researchers, and to map activity.
Growing Up With Two Languages
The Growing Up With Two Languages website was developed to support a wider programme of outreach to parents to encourage augmentation of the linguistic landscape, by presenting audio clips from interviews with parents and teenagers from bilingual households. These clips were taken from interviews carried out for the Intergenerational Transmission of Minority Languages (ITML) project, which studies the extent to which speakers of minority languages in New Zealand are passing their language on to their children.
The Big Online Experience
Created for the 2018 WORD Christchurch festival in conjunction with The Commuting Book, The Big Online Experience is a collaborative map of antipodean literary and cultural sites. The map was created using ArcGIS, and features contributions from staff and postgraduate students from UC's English and Cultural Studies departments.
Transitional City Map
This interactive map, created using sheetse.js and based on data from Christchurch: The Transitional City Pt IV, showed the locations of transitional projects created in response to the Canterbury earthquakes of 2010 and 2011.
Media & Coms PhD project: Morenike Oladeinde
Morenike Oladeinde's Media and Communications PhD thesis examined how Nigerian and New Zealand newspapers portray political activities in their countries and discuss representative democracy. The ADL provided technical support, creating a spreadsheet with a tailored userform to make it easier to organise newspaper articles into categories of interest.
Linguistics MLING Project: Kaspar Middendorf
ADL Manger Kaspar Middendorf used data generated by the lab in their MLING thesis. Kaspar's research compared syntactic structures in the spoken language corpus collected by the QuakeBox project with the written language of the Christchurch Press. An ADL-developed database of Press articles, indexed by features such as by-line and newspaper section, enabled Kaspar to search the articles for the structures they were interested in, and to easily determine where they occur in relation to each other.
Xplore
Xplore was an online game created by the ADL to mark six years since the Canterbury earthquakes of 2010/2011. Inspired by the Geoguesser app, Xplore presented players with archival images of central Christchurch, and challenged them to locate the photograph on a map, drawing attention to the lack of landmarks in the empty lots of the then mostly-demolished inner city, and highlighting the breadth of content in the CEISMIC archive.