The UC Arts Digital Lab collaborates with a wide group of researchers across the Faculty of Arts (and beyond) who have expertise and interests in digital or digitised objects of study, in digital research methodologies, or in philosophical or sociological perspectives on digital technologies. Digital approaches can be an important component of many types of research, teaching and outreach.
Below are just a few examples of the many projects the ADL has undertaken in recent years.
Working with Data
Data collection from public sources
Extract, re-structure and clean data for analysis
Make existing datasets more accessible to researchers
UC QuakeStudies
UC QuakeStudies is a digital archive built to store content related to the Canterbury earthquakes. We aim to document the impacts of the Canterbury earthquakes, record our community's recovery, and facilitate research on earthquakes and post-disaster response and recovery in New Zealand and around the world.
Mapping LAWS
Controversy around the development, regulation and use of Lethal Autonomous Weapons Systems (LAWS), or 'killer robots', has rapidly developed over the past decade. The 'Mapping LAWS' project uses methods and tools associated with 'issue mapping' to gather large digital datasets of published writing on LAWS, present the results in accessible visual formats inspired by the principles of 'data humanism', and analyse key international relations and policy-related issues that arise from that process.
Philosophical Discourse in Early New Zealand Newspapers
Philosophical Discourse in Early New Zealand Newspapers was created by Joshua Wilson Black, building on his Masters in Applied Data Science summer project. The project used "iterative bootstrapping" to train classifiers to identify philosophical content in the Papers Past digital newspaper archive.
Presenting Research
Build databased-backed applications to view, search and annotate research materials
Demonstrate research outcomes through interactive data visualisations and digital objects
Canterbury Roll
The Canterbury Roll is a 15th-century, hand-written genealogy that begins with Noah and traces the rulers of England from the mythical Brutus to King Edward IV. This project presents a new digital transcription and translation, mapped to a high quality digital facsimile of the Roll. The ongoing project is a partnership between UC History, the UC Arts Digital Lab, the UC internship programme, the Collaborative Research Centre 933 of Heidelberg University, and Nottingham Trent University (UK).
Roy Bruce Letters
The Roy Bruce Letters are a collection of correspondence sent back to New Zealand during World War 1 by Major Roy Bruce of 8th Squadron, Canterbury Mounted Rifles. Major Bruce fought in Gallipoli and was promoted to Second in Command of his regiment. He was twice wounded while serving in the Middle East. The scanning, transcription and TEI markup of letters in the Roy Bruce collection was undertaken by students of ENGL317/419 in 2010 and 2011.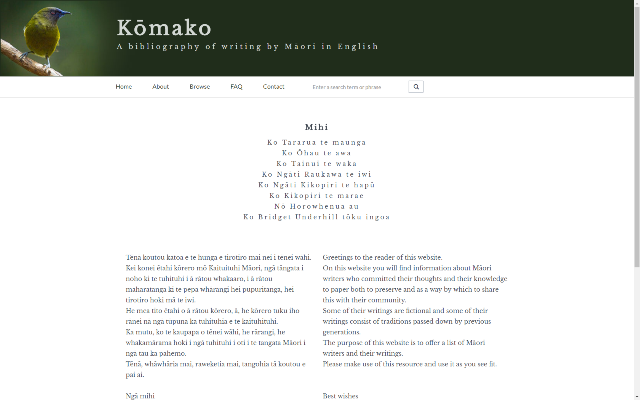 Kōmako
Kōmako is a bibliography of writing by Māori in English. The website presents a database of information about Māori writers who committed their thoughts and their knowledge to paper both to preserve and as a way by which to share this with their community. Some of their writings are fictional and some of their writings consist of traditions passed down by previous generations.
Teaching and learning
Bring together academics and students from across UC
Coordinate with IT Services to offer more specialised digital platforms and tools
Provide support for trialling software and sandbox environments
Involve students in research
Host small-group teaching and training
Co-supervise student digital projects
The Record
The Record is the online publication of journalism students at the University of Canterbury. The website aims to provide an online sandpit for students to learn the ins and outs of multimedia journalism. All work is produced by students, who are responsible for producing and editing news stories, photos, videos and audio — and having fun along the way.
DIGI 403 Projects
Students can learn how to develop their own digital projects in the Honours-level course DIGI 403. Students acquire valuable transferable skills, learn how to apply digital tools and methods to research questions, and understand how scholarly knowledge can be delivered through digital channels.The ADL can support student digital projects in ways ranging from advice and training in particular digital tools through to providing space within the Lab for students to work collaboratively on projects.
Research Assistants
Many of our projects employ students as part-time Research Assistants. Our RAs are part of the research team, collaborating on real research, and expanding their digital skills along the way. We encourage our Research Assistants to be "research alongsiders", and there are often opportunities for RAs to present seminars or co-author papers under the leadership of established academics.
Find out how UC students can get involved in the ADL