You might notice things are looking a bit different around here. That's because we've just launched an entirely new website for the UC Arts Digital Lab.
As well as giving our site a visual upgrade, we've rearranged some of the pages to hopefully make it easier for visitors to find out who we are and what we do, and for students to find out how to get involved in the Lab.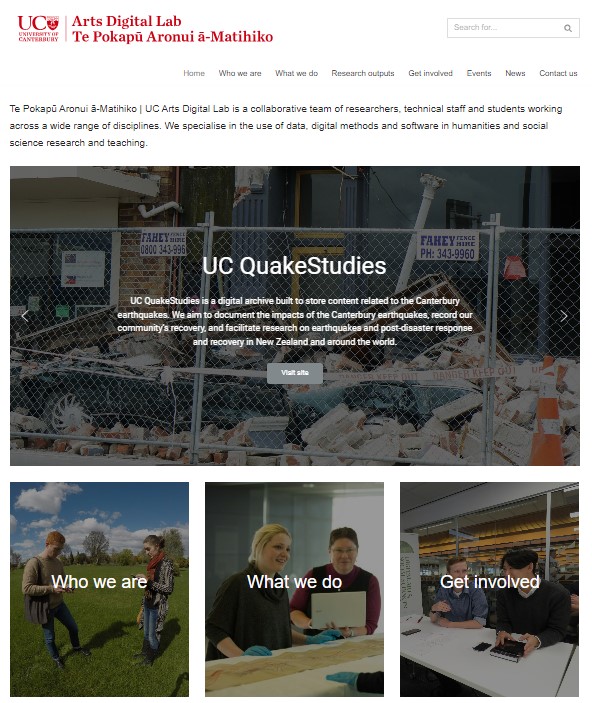 On the Who we are page you'll find a list of all the staff and students who work with the Lab. The What we do page gives you examples of the sorts of digital research we work on. Get involved tells you how you can do exactly that: get involved in the Lab, through volunteering, joining the Digital Humanities Research Network, or even developing your own digital project. On the Research outputs page you'll see a list of publications that have emerged from Lab projects, and the News and Events pages will keep you up to date with what's going on.
We've got a new URL, too. Our old URL reflected our origins in the Digital Humanities teaching programme. While we've kept our close ties to Digital Humanities, the Lab has evolved to be so much more, and now we collaborate with researchers from all across the Arts, not just the Humanities. So our URL now tells you exactly who we are: artsdigitallab.canterbury.ac.nz. Don't worry though if you've got our old site bookmarked – we've set up redirects to bring you here.
So have a look around, and explore some of the cool stuff we've got going on in the Lab!